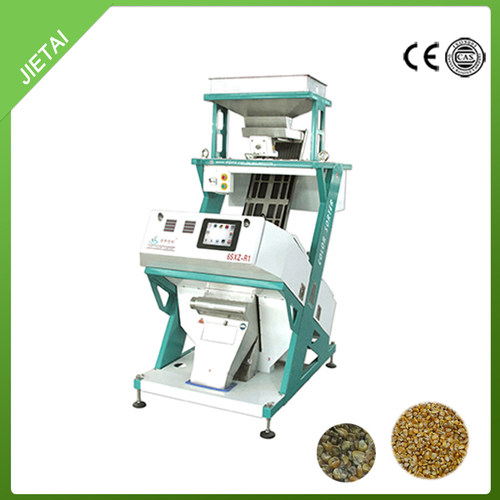 Corn Color Sorter
Product Code : 01
Product Description
Corn color sorter
Quick Detail:
This Corn Color Sorter is highly suitable for grain processors who sort a variety of corn seeds at different processing stages. Our complete range is highly suitable for processors who demand the highest quality in corn. Ideal for both small and large -scale industries, these machines offer precision sorting for maximizing the yields and profits. This machine is specially developed of removing defective elements such as discoloration, black tips, spots, dark, rotten pieces, unwanted foreign grains, diseased kernel, split seeds, sticks and stones from the stock.

Helps to maintain standard quality of delivered grain

Ensures food safety rate

Raises productivity level

Known for its reliable operation

Apart from improving output level, it requires minimal operation charge

Functional stability
Description:
This equipment is acknowledged for its efficiency in eliminating unwanted grains and foreign seeds from corn. It simplifies product controlling process by removing damaged seeds in order to maintain standard grade of produced corn flour.

This machine helps to maintain food safety norms by eliminating diseased corns for delivering high quality flour, semolina and pasta.

Its ergonomically designed ejection system lowers false rejection of undamaged corn by adopting advanced reject stream with high concentration level. Its precisely designed chutes have key role in improving quality of its end products.

Its sorters are combined as per its various production requirements. Besides maintaining its production capacity, this machine minimizes production downtime, requires less time for cleaning and any modification regarding its configuration.

The unique design of this machine helps to upgrade functional efficiency of its mechanical cleaners and improves its hand operated operation so that its productivity raise without increasing its operation cost. Besides lowering its operation downtime, it helps to increase sales figure of an organization.

Its sorter ensures better performance in terms of product identification, self regulating calibration and cleaning of its viewing section sans affecting its performance.
Applications:
This equipment is suitable for all sorts of crops that include grains, industrial granular items and rice.