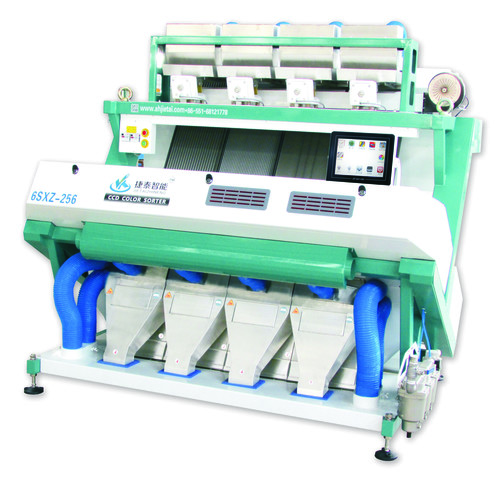 Fennel Seed Color Sorter
Product Code : 14
Price And Quantity
Minimum Order Quantity

:

one
Unit of Measure

:

Set/Sets
Product Description
Image processing system and algorithm
This machine is designed with multiple modes complex algorithm that integrates space and color, shape selection and color sorting functions as per different materials. Its working principle depends on DSP+FPGA processing technology of international brand. It allows setting different working modes and choosing thousands of materials.

Camera image acquisition system

Its precisely designed camera lens which is imported from abroad ensures superior image quality. This machine also consists of 2048 pixel high precision linear CCD of imported quality. This high resolution CCD is capable of identifying and sorting at high speed.

Unique self-ejecting nozzle and valve drive mode

This machine uses specially designed air valve with excellent speed and outstanding response frequency. Energy efficient nature and longer working life are some of its special attributes. This valve has a key role in lowering air consumption, in raising response speed, in maintaining accuracy of striking, in delivering small carryover and in ensuring higher productivity of this machine.
Light source system
This machine utilizes branded LED optical design system and its light sources can be customized as per different materials. It is capable of solving difficulties resulting from fluctuation in temperature, loss of materials and short service life etc. that are the outcome of longer usage of light source. It helps to extend functional life of LED light source under consistent temperature.
Feeding system
It uses state of the art feed detection system to maintain even flow of material.
Various slide ways are chosen as per different color sorting substances so that these materials can slide down in an uniform manner and carryover is decreased.

Supply Capability: 100 units / month

Port: Shanghai / Ningbo,China

Delivery: 15-20 days

Packaging: Wooden case/plywood package

Grain Color Sorter Specifications

The above mentioned data is provided on the basis of 3% contamination. The actual output is estimated as per the material and its contamination level.

No prior notice is given regarding update of products. Kindly refer to the real equipment.
Grain Color Sorter Specifications
Model

6SXZ-CCDR1

6SXZ-CCDR2

6SXZ-CCDR3

6SXZ-CCDR4

6SXZ-CCDR5

(Output)

(t/h)

1.0-4.0

1.5-5.0

2.0-6.0

2.5-7.0

3.0-8.0

(Sorting Accuarcy)(ï¼…)

99.99%

99.99%

99.99%

99.99%

99.99%

Carryover

≥8:1

≥8:1

≥8:1

≥8:1

≥8:1

(Carryover)(kg)

700

800

900

1000

1100

(Total weight )(mm2)

0.04

0.04

0.04

0.04

0.04

Resolution

(kw)

2.0

2.5

3.0

4.0

4.5

Dimensions

(L x W x H)

1684x1650x2010

1998x1650x2010

2312x1650x2010

2626x1650x2010

2930x1650x2010

(Power Supply)(V/Hz)

220/50(110/60)

220/50(110/60)

220/50(110/60)

220/50(110/60)

220/50(110/60)